Why study with us
SUCCESSFUL ABSOLVENTS, SUCCESSFUL FUTURE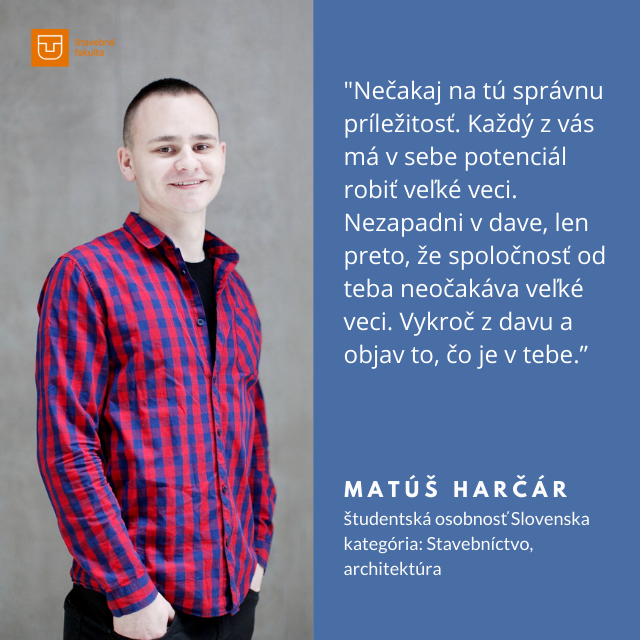 The Faculty of Civil Engineering of TUKE strives to create an ideal environment for your career and personal growth. Our successful graduates are a clear example of how we are doing this. See what they say about the Faculty of Civil Engineering and what advice they have for a successful career.
Don't wait for the "right" opportunity. Each of you has the potential to do great things. Don't fall in the crowd, just because society doesn't expect big things from you. Step out of the crowd and discover what's inside you.
Matúš HARČÁR, student personality of Slovakia, successful graduate
category: Construction, architecture
"Don't be the one who sees obstacles in place of opportunities". The world around us is full of opportunities and it is up to us or we can profit from them. Studies at the Faculty of Civil Engineering TUKE gave me two most important skills. The first is to see these opportunities and the second, equally important, is to be able to take advantage of these opportunities and make the most of them.
Pavol KALEJA, Start-up Vizualizačky
"Create values for people and always succeed. The engineering study at SvF TUKE provided me with an ideal platform for personal development in the construction industry. and the professional identity I want to present myself in the business world. "
MATÚŠ TKÁČ, successful graduate
EMPLOYMENT SECURITY AND APPLICATION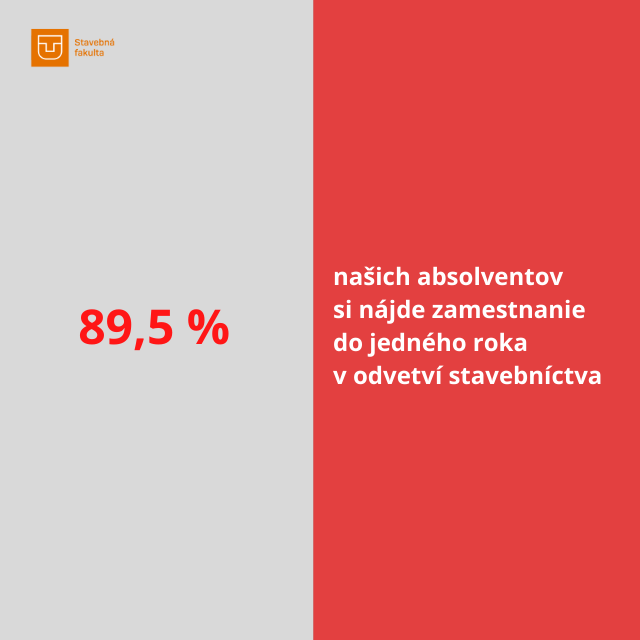 The basis of a successful future is quality preparation, theoretical knowledge and connection with practice. The employment of our graduates in the labor market is best among the construction faculties operating in Slovakia.
Up to 89.5% of our graduates find employment within a year in the construction industry.
STATISTICAL OFFICE OF THE SR
CREATIVE ENVIRONMENT FOR EDUCATION AND ENTERTAINMENT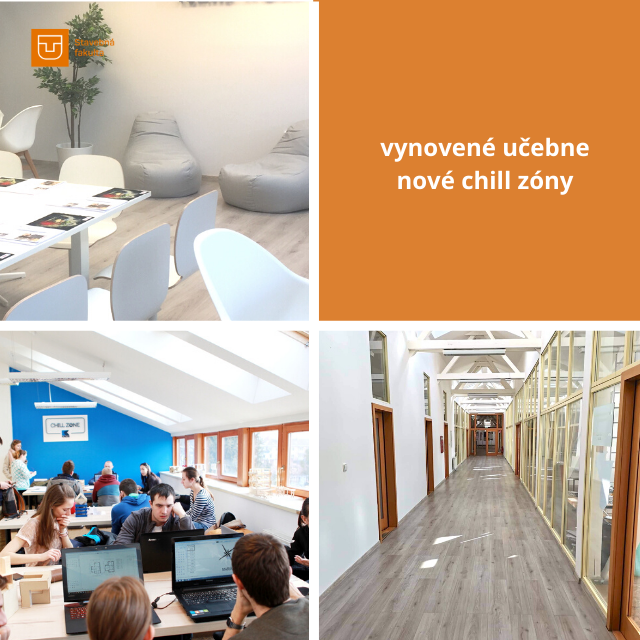 Construction work requires a dose of creativity. It is a challenge for any civil engineer to design and realize magnificent construction works. In order to create and realize during your studies, the TUKE Faculty of Civil Engineering offers you new premises where your lessons will take place or where you can spend your free time.
STUDENT LIFE AND EVENTS
The time spent in college is one of the most beautiful and fun times in young people's lives. Have fun with us. Upon successful admission to our faculty we will invite you to enroll in the first year, which is not boring. You do not need a suit, nor elegant pumps or a handbag to enroll. We will start with a picnic where you will get to know your future classmates, as well as teachers and the environment.
In the first semester, you will have a matriculation ceremony. The last one was Lukáš Adamec. Ask our students how fun it was.
A varied student life awaits you throughout your studies, where there will be space for relaxation. Events such as "Jedlička, MayDay, balloon fiesta" and others are probably known to our students.
CONNECTION WITH PRACTICE AND EXCURSION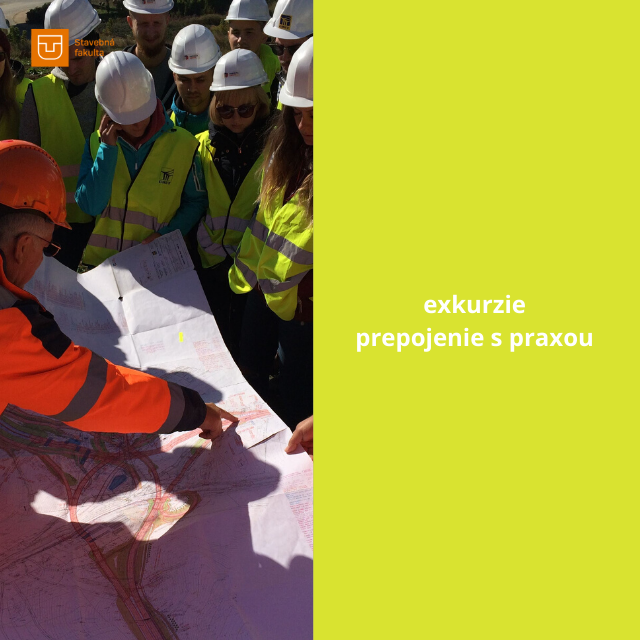 The Faculty of Civil Engineering works closely with practice and companies that are among the largest and best in the construction industry. As a student of the Faculty of Civil Engineering TUKE you will be able to download in the construction company during your studies. You can do the final work on a real project, your consultant can also be an expert from a specific construction company. During your studies you will be able to see excursions where you will be able to see "theory in practice".
COMPETITIONS AND STUDY CHALLENGES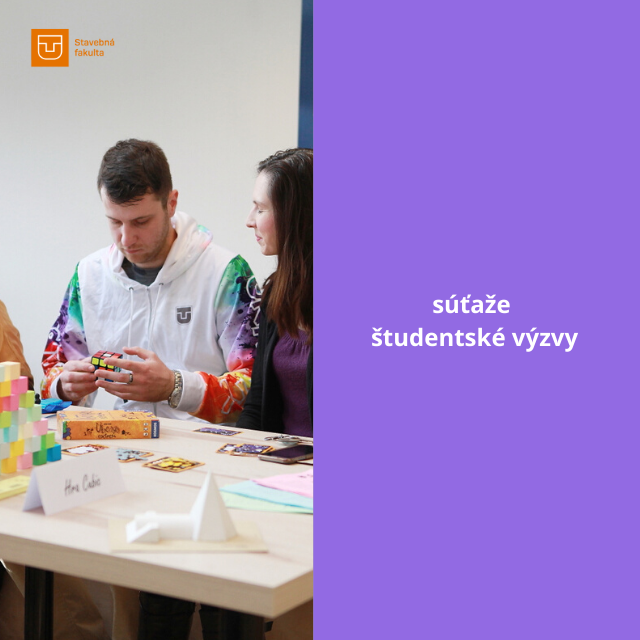 The Faculty of Civil Engineering TUKE strives to develop students' talents through several competitions organized at the Faculty. As a high school student, you have the opportunity to participate in the ConstruCom competition organized by the Faculty of Civil Engineering TUKE. We will also be happy to support you in competitions organized by other institutions, not only through material provision, but above all by mentoring experienced and willing teachers.
KOŠICE, STUDENT CITY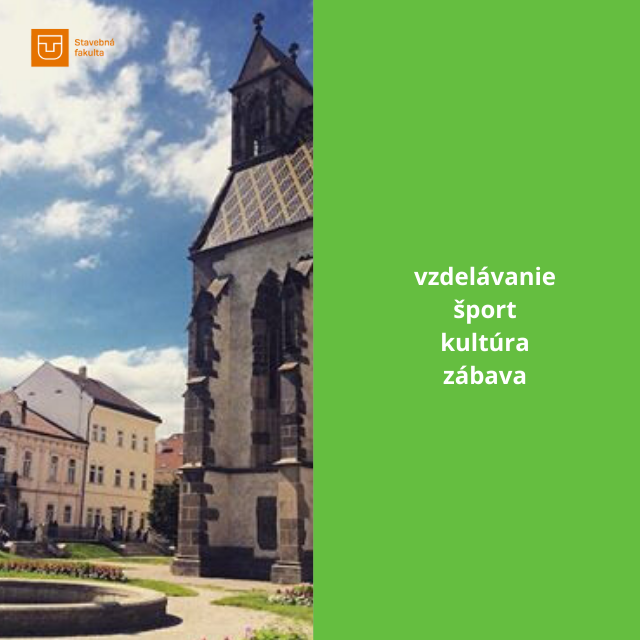 Košice is one of the most beautiful cities in Slovakia. You will find here space for education (libraries, courses, lectures), sports (directly the possibility of doing sports at TUKE), culture (cinemas, theater), but also borderless opportunities for entertainment. You don't have to see Košice, you have to experience Košice and student life in them.
TRADITIONAL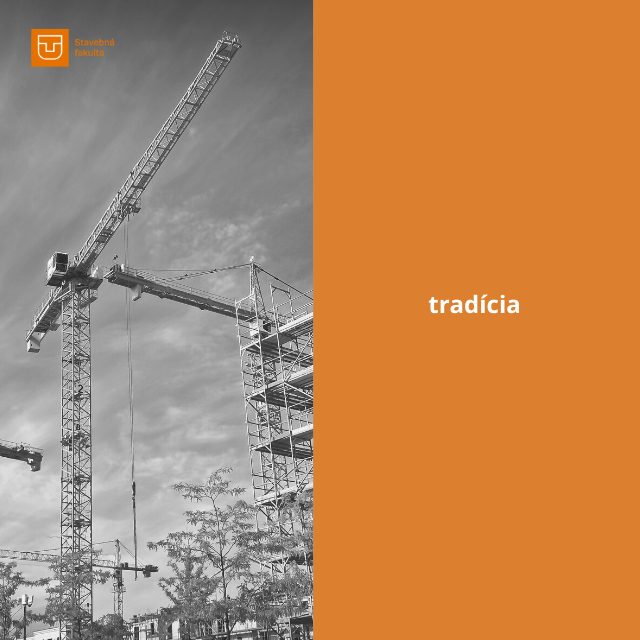 The Faculty of Civil Engineering of the Technical University of Košice was founded in 1977. Over 40 years of its operation, more than 8,000 graduates have left their offices as diverse designers, site managers, managers, CEOs, researchers and teaching staff.
TOP LABORATORIES AND MODERN TECHNOLOGIES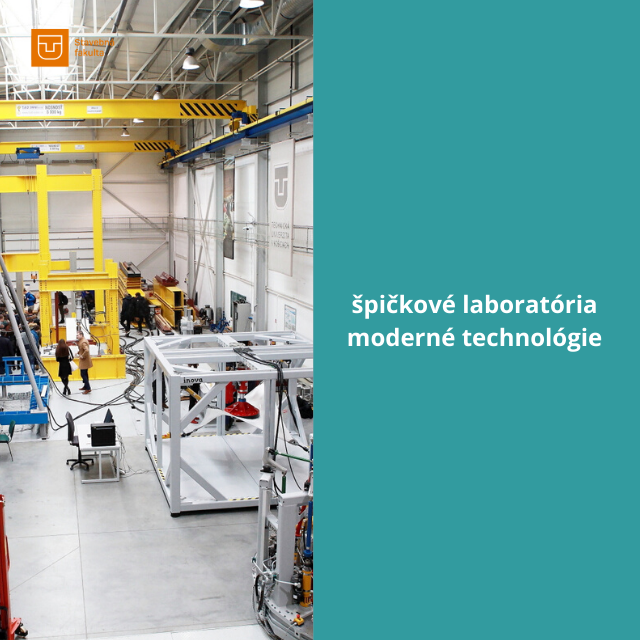 Laboratories at the Faculty of Civil Engineering TUKE are among the best in the world. As a student, you can also use these labs for assignments and final theses. If you are also interested in research, you have ideal conditions to participate in various projects and thus help in the field of science and research. As a student you can also realize your business ideas, start-ups and innovations. We will advise you in this.
FULFILL ENERGY AND DETERMINATION TO HELP THEM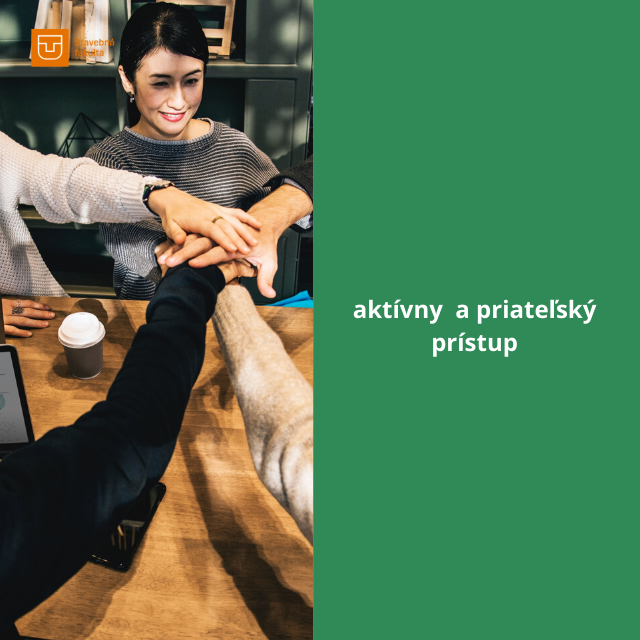 Experience and friendly approach is what you can expect at the Faculty of Civil Engineering TUKE. We offer you a symbiosis of young energetic people applying innovative teaching methods and rich expertise guaranteed by more experienced educators. Combined with modern technology, software equipment and proactive approach to students, it is a guarantee that a university will be an unforgettable way for you to succeed. The following video shows us that we are active and full of energy to welcome you to our faculty and to give you positive energy.
WORD OF THE DEAN TO CONCLUSION
The desire to change the world for the better is in each of us. Construction is one way to make this dream come true. The construction is a complex work not only from the point of view of architecture, construction systems, but we also perceive it as a business project. It needs to be planned, implemented, sold and found a suitable way of use. Come to study us and we'll teach you all this. Build your successful future with us!
Ing. doc. Peter MÉSÁROŠ, PhD., Dean of the Faculty of Civil Engineering TUKE